Have your artwork showcased on the street banners located on light poles throughout the Peacock Arts District!
CONTEST DESCRIPTION
In order to highlight Fort Pierce as an arts destination, celebrate and support the abundant creativity of our local artists and art scene, give visibility to those who may not normally receive representation, and delineate & beautify the newly created arts district –– the City of Fort Pierce is seeking local artwork for the street pole banners that will hang throughout the Peacock Arts District. It is our goal to feature a diverse set of artists currently living and working within Fort Pierce, while welcoming visitors to Fort Pierce and the PAD.
MEDIUM
We are accepting all 2-dimensional mediums which can be created through, but not limited to: photography, painting, collage, mixed media, digital art or illustration.
Banner dimensions: 18" W x 38" H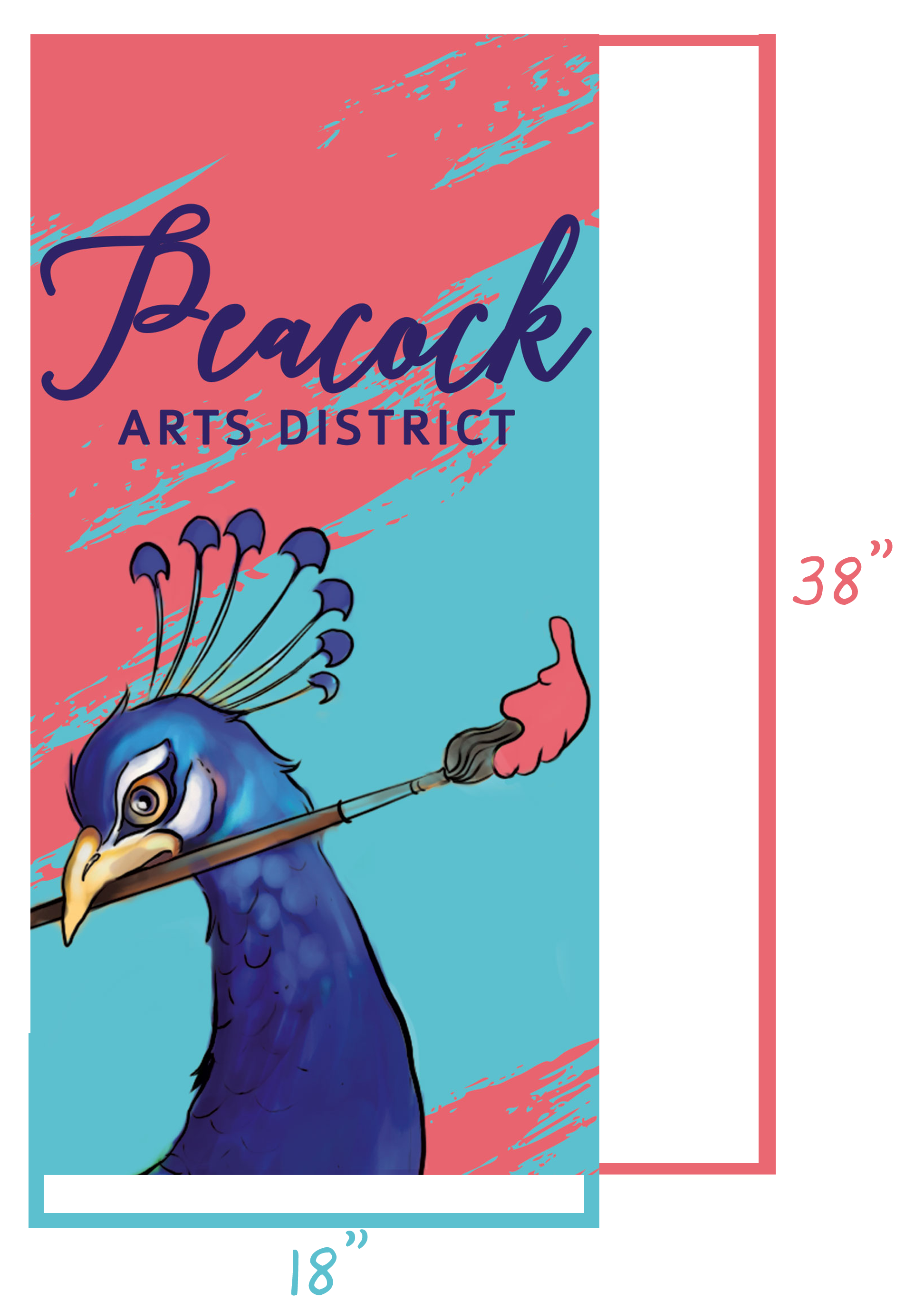 REQUIREMENTS
The contest is open to all participants of all ages. If under the age of 18, a parent or guardian will be required to sign a release form.
Design must be submitted by the original participant or you may work with a team to design a collaborative production. Do not submit a design that was not created by you or your team. Your submission of the photo or design and entry form is your guarantee that you are the author, sole owner, and copyright holder of the design.
Banner designs should reflect Fort Pierce as a place and illustrate the themes for each banner style:
• General Fort Pierce (landmarks, points of pride, etc.)
• Celebrating the Arts (any form of art: Painting, Drawing, Graffiti, Culinary, Yoga, Collage, Music, etc.)
• Positive Messages (inspiring words, phrases – Keep in mind that the text will need to be visible to drive-by traffic so the phrases should be limited to only a few words)
What do you love about your community? Entrants are encouraged to create works of art that reflect or symbolize elements of the community that inspire them. Works can be created in any medium but will need to be sufficiently large enough to be photographed and enlarged for printing on large 18" x 38" banners
ENTRIES
Images must be supplied digitally and of reproduction quality. Submit one high-resolution image, at least 300dpi at 18"W x 38"H (as per tall banner ratio), in .tiff or .jpg file format per entry. PHOTO QUALITY COUNTS! Your entry will NOT be considered if the photograph is not of reasonable reproduction quality. Tips: Choose a work/photograph which is bold, bright and legible, with good sharpness and contrast. Avoid busy images or those that would not come across well from a distance. Think different, out of the box!
Peacock Arts District logo will be added to either the top or bottom of the banner, bear that in mind when creating your artwork.
Artists should keep the following in mind:
- Designs should be suitably bold as to be visible from a distance
- Designs should include at least one color (as opposed to black and white)
- Text should be minimal, and may not include proper names (i.e. names of businesses, products or people).
- Designs should be in good taste, and appropriate for viewing by children of all ages.
- Note that portions of the design on the top and bottom of the banner may be hidden by the hanging pockets, logos, and/or cropped for seaming, so the main subject of the artwork should be centered vertically
ENTRY DATES
Call for Entries is open from February 21, 2019 to March 27, 2019
ENTRY INFO
Log on to: www.LoveFortPierce.com for instructions, rules and electronic entry form through Woobox.
There is no limit to the number of entries an applicant may submit; however, one entry form is required with each submission.
JUDGING CONSIDERATIONS
Considerations include aesthetic impact, diversity of medium, representation of banner style theme, suitability for the medium, appropriateness for public display, and legibility for drive-by viewers. Think outside the box!
WINNING ENTRIES
Selected entries will be featured on lamppost banners in the Peacock Arts District.
POSTERS AT CITY HALL
Reduced size poster reproductions of the winning banners will be on display at City Hall for a period to be determined.
PROMOTION
Promotion will be determined by the City of Fort Pierce. A variety of promotions will be ongoing throughout the competition and may include, but are not limited to: city's website, social media, press release, print publications, etc. Promotions may include artist bios, photos of design, and finished banners.
DISCLAIMERS
The City of Fort Pierce reserves the right to disqualify any entry if deemed unsuitable for display, if entrant did not include a completed entry form and/or suitable image by the end of the call for entry period, or if entrant does not meet all requirements as described above.
The City of Fort Pierce reserves the right to crop and retouch entrant's digital file as is deemed suitable for banner format and ratio, legibility, best impact and aesthetics.
By entering this competition, entrant agrees to all terms described herein, and allows their image/artwork to be displayed publicly. By entering this competition, entrant grants the City of Fort Pierce full rights and unlimited use of their submitted image (or portion thereof), in the banner and poster layouts and for use in any City of Fort Pierce promotions, including but not limited to print, digital and social media channels.
Each participant, by registering for the contest, agrees to hold harmless and release the City of Fort Pierce and each of their staff members, consultants, and any other person or entity associated with this contest from any and all liability claims or actions of any kind with respect to or in any way arising from this contest, participation in any contest-related activity.
The City of Fort Pierce assumes no responsibility for any error; omission; interruption; deletion; defect; delay in operation or transmission; communications-line failure; or theft, destruction, unauthorized access to, or alteration of entries. The City of Fort Pierce is not responsible for cheating or fraud by any participant.
The City of Fort Pierce reserves the right, at its sole discretion, to cancel, terminate, modify, or suspend the contest.
QUESTIONS/MORE INFORMATION
Additional information regarding submission requirements can be found on www.LoveFortPierce.com. Emails your questions to: citymanagersoffice@city-ftpierce.com.